Drain Cleaning Services
Virginia Beach, VA
Servicing Commercial and Residential Clients – Video Camera Inspection & Jetter Sewer Drain Cleaning
A T Large Plumbing has the equipment and expert technicians to handle your clogged drain problem. Call us today to learn why so many residents in Virginia Beach rely on us for their all their drain cleaning and camera needs. No job is more important than yours!
Is the water in your sink refusing to go down the drain? Maybe you have water backing up into your toilet or shower drain. It is likely because your sink or sewer line is clogged. Something is obstructing the path the water needs to flow. While it is much quicker and easier to unclog a sink drain than a main sewer line, it is important that you hire a professional to make sure the clog is removed properly as to not harm your houses pipes and fixtures.
Since 1955, A T Large Plumbing has employed the most qualified technicians with years of experience in sewer and drain cleaning procedures. 
Our Drain Cleaning Tools
Over the years, we have had the opportunity to acquire multiple sewer and drain cleaning machines, so that we can properly serve everybody's needs. Every home or business has multiple drain sizes, and each drain requires the properly sized drain cleaning machine. By having the ability to meet the needs of so many drain sizes, it ensures we can do the job more quickly and accurately to reduce the intrusiveness on your home.
Video Camera Drain Inspection
In addition to our sewer and drain cleaning service, A T Large Plumbing has the ability to run a camera down your drain after the blockage has been removed. Running a camera down the problem drain has two major benefits. First, it can often times inform you of what originally caused the drain to back-up. Second, and more importantly, the camera has the ability to show whether or not you will have continuing problems.
A T Large Plumbing utilizes  Spartan drain cleaning equipment, including hydro-jetting machine to clean the inside of drain pipes of deposits, roots, and other buildups that accumulate in drain pipes.  Our jetter is capable of cleaning sections of lines up to 300 feet in length and sizes from 3" to 12" in diameter at pressures up to 3,000 psi.  These high pressure jetters can clean sewer lines from deposits and foreign matter such as:
Sludge built up over time
Grease Deposits
Roots
Descaling interior walls of pipes
We have turned pipes looking like this: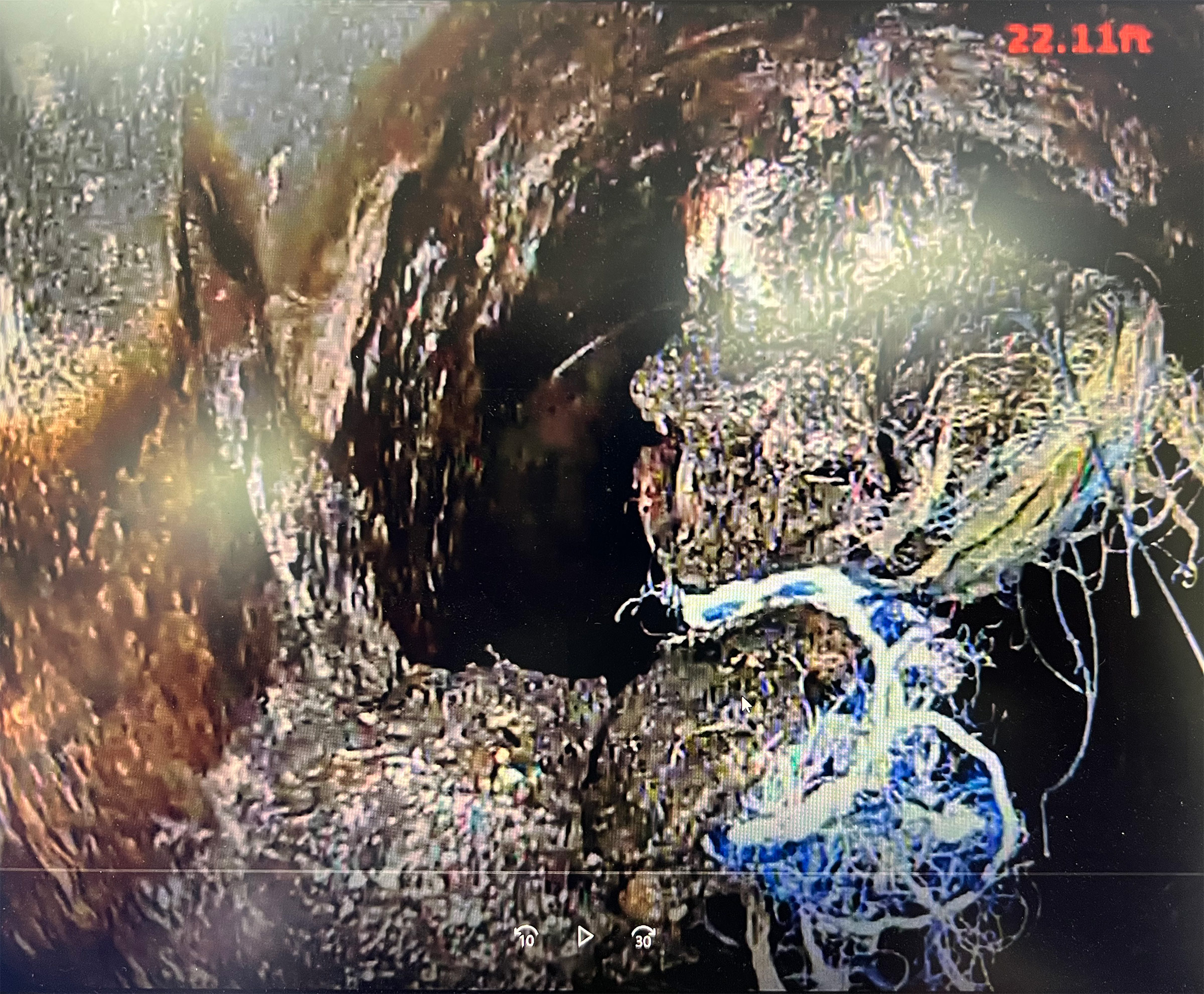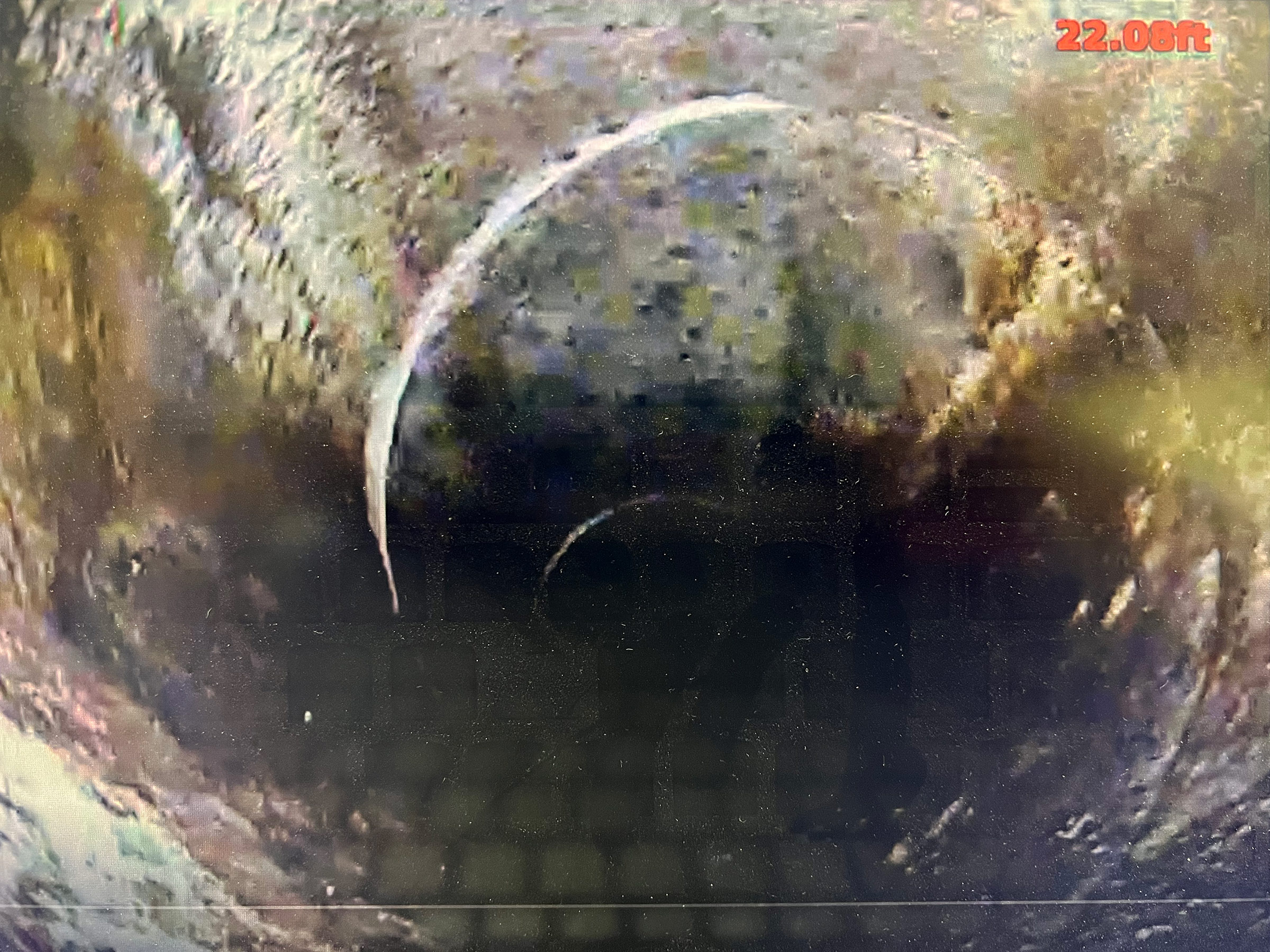 Maintaining peak drain efficiency can be critical to a business or household.  We recommend setting up a maintenance contract with us to regularly clean your drains, especially where your drain pipes need to meet the challenge of high use with little downtime due to slow drains.
Give us a call to set up an appointment to jet your sewer lines clean.
Some signs that you may have a sewer drain clog:
Multiple Fixtures Clogged
A very clear sign of a sewer drain clog is when more than one plumbing fixture backs up at the same time. Toilets are the most affected by this, but other fixtures can also be involved. If you suspect that you have a sewer drain clog start by checking other fixtures in the home.
Toilets have the most direct path to the sewer and the biggest drain line in the house. If a sewer drain problem arises, your toilets will be affected. It is atypical to have a main line sewer stoppage where the toilets are working properly.
Strange Reactions When Using Fixtures
The next thing to look for when you suspect a sewer drain clog are any strange reactions when using your plumbing.
Flush The Toilet - If flushing the toilet causes water to back up or come up into the tub or shower this is generally a sign of a sewer drain block.
The flushed water that cannot go down the sewer drain flows back up the pipes and comes out at the lowest point which is usually the shower drain.
Use The Sink - Search for trapped air in the plumbing. Run water in your lavatory closest to the toilet for a minute or two. If the toilet bubbles or you see water rising in the bowl, then it is very likely the main sewer line that is blocked, not the toilet.
Tub and Shower - Other drains typically affected by a main line stoppage are those in the tub and shower. This is due to the fact that they sit lower than a sink drain. Check whether the tub and shower drains are blocked if you suspect a sewer drain clog.
Do you need drain cleaning service in Virginia Beach? Give us a call today!