The History of A T Large Plumbing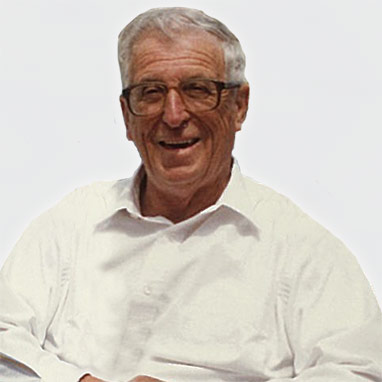 Alton L. Butt (1919 - 1989)
---
In 1955, President Dwight D. Eisenhower was in the White House and gasoline sold for $0.23 per gallon. It was then that E. J. Schulz and Alton L. Butt, known to everyone as "Buster," founded Butt Plumbing and Heating, Inc., in Virginia Beach—one of only a few plumbing companies operating in the city at that time.
Butt Plumbing & Heating, Inc., immediately established itself as both a residential and commercial plumbing company, dedicated to improving the quality, reliability and functionality of homeowner's kitchens and bathrooms. The company also had a working relationship with Camp Pendleton, where they met the plumbing and heating needs of the military base.
Alfred T. Large, Sr.
---
As Butt's business expanded, he hired his son-in-law Alfred T. Large, Sr., in 1957. Alfred quickly grew his reputation as a dedicated hard worker with a promising future at the company.
Two years after joining Butt's workforce, Alfred enrolled in the local plumbing apprentice program, completed his course study, and graduated in 1964. Soon after, Alfred earned his journeyman's license and continued to hone his craft. He went on to earn his master's license while continually improving his position in the company, and before long, he was promoted to the rank of lead plumber. In 1971, Alfred Large purchased Butt Plumbing & Heating. Under Alfred's guidance, the company's reputation became widely known as the premier residential plumber for the Virginia Beach area.
In addition to the strong relationships Alfred has built through his business, he is also very involved in the Virginia Beach community. For over 25 years, he has been an active member of the First Baptist Church of Virginia Beach on 35th Street, where he served as the church's Deacon for several years. Alfred continues to participate with the church's building and ground maintenance, as well as volunteering at "MiMi's Pantry." This food pantry provides non-perishable food for those in need 9am through 3pm, Monday-Friday (consideration for donations to this outreach program would be greatly appreciated).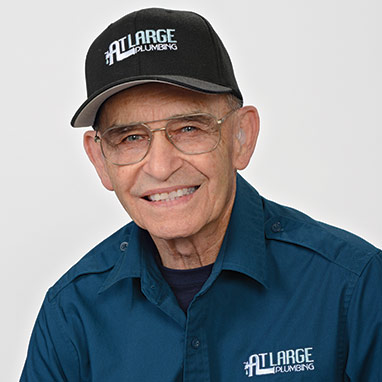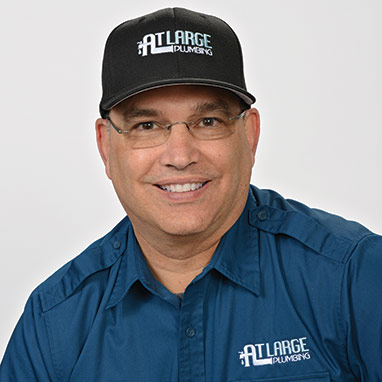 Ted Large
---
After helping his father carry tools and clean up on jobs since he was 13, Alfred's eldest son, Ted, obtained his master's license in the 1980s, when he was much older.
It was during a time when Virginia Beach was growing rapidly and establishing itself as a popular East Coast vacation destination. Because of its popularity, the city of Virginia Beach also required additional plumbing capabilities for its growing residential areas. Butt Plumbing was there to connect many of the residences on the North End of the beach to the city's sewer lines. Ted has been instrumental in the family business and has worked along side his father for many years. Ted is currently a part owner and holds the position of Vice-President/Treasurer.
Gabe Large
---
In 2011, Ted's son, Gabe, became the fourth generation of family plumbers to join the ranks of Butt Plumbing & Heating, Inc.
Currently, Gabe is completing his studies as a vocational plumbing student and will sit for his journeyman's exam in 2016.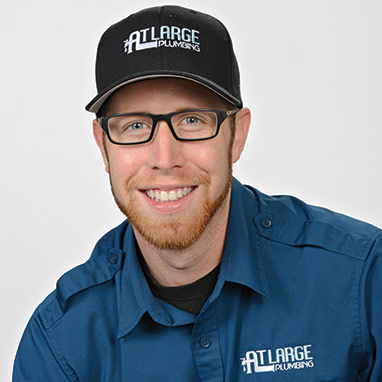 Gabe on working in the family business:

"In 2010, I took my first job at my grandfather's company, A T Large Plumbing. I thought to myself that it would be a great start towards figuring out what I wanted to do professionally in life. A few years later, I had found my career–not only because I found myself to be good at plumbing (it is a great trade), but because I was employed by and part of my family's company.

I'm often asked if it's hard to work with family, but the answer is simple. No. My grandfather, Alfred Large, is a mentor and great family man. I learned numerous things from him about my trade that typically isn't taught in tech-schools or standard on-the-job training. Through working together he also taught me by example to respect others, clean up after myself, and have plenty of patience. Not only do these character traits help me in the plumbing field, but they help with every day life decisions and choices. I am very fortunate to have my grandfather as my teacher. I have learned many "old school" tricks from him that make certain jobs easier to diagnose and fix.

Even though "The Old Man" is very traditional, I couldn't have asked for a better plumbing instructor. He has imparted to me all the information he has gained through experience. I am the fourth generation plumber in my family, and because of my grandfather, I feel very comfortable with being the next representative of our family-run business."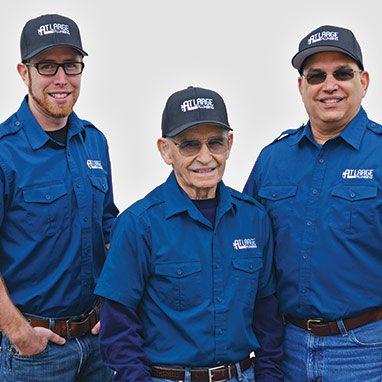 The A T Large Plumbing Family
---
Throughout the years, Butt Plumbing & Heating, Inc., has become widely regarded as a friend and a reputable plumbing contractor to its customers.
The company's vision is to share its four generations of plumbing experience with the entire Virginia Beach area, while maintaining high standards of quality service and customer satisfaction. And though Butt Plumbing & Heating has changed its name to A T Large Plumbing, to represent the heritage of the current owners, Alfred T. Large and his son Ted (Alfred T. Large, Jr.), customers can be reassured that the company has not, and will not, change any of its core values and standards.